Successful Lobbying Strategies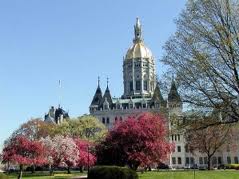 Connecticut Lobbying Group, LLC is a full-service government relations & political consulting firm that is uniquely positioned to help you develop legislative and regulatory solutions to the issues facing your business or organization. We can offer your business or organization much more than the traditional government affairs package – at a fraction of the cost!
Connecticut Lobbying Group, LLC has the expertise and know-how to develop and implement successful lobbying strategies to get you the results you need to be competitive. We have an excellent track record of success at the state Capitol and have successfully lobbied on a wide range of issues, including antitrust, energy, corporate law, e-commerce, healthcare, public utilities, transportation and labor & employment law. Our lobbying team will help you:
Communicate your association's position to key policymakers in Connecticut
Our staff has worked extensively with almost every member and committee of the Connecticut General Assembly and is well respected by lawmakers on both sides of the aisle. We also have excellent working relationships with numerous state agency officials, including the state Departments of Labor, Consumer Protection, Public Health, Environmental Protection, Economic and Community Development and Insurance and other state agencies.
Identify, research, and analyze legislative and regulatory issues
Connecticut Lobbying Group, LLC will work tirelessly to understand your industry's issues as well as you do. Our firm is positioned to provide your business or organization with legal research and economic analysis to help you assess the impact of pending legislation and regulations on your industry. This in-depth understanding of issues will allow us to effectively communicate your position to policymakers to get you the results you need.
Draft legislation, regulations, issue briefs, testimony, fact sheets and alerts
Our lobbying team is well-versed in drafting legislation, regulations and amendments, putting us ahead of the competition. If 11th hour amendments need to be negotiated, we have the know-how to draft language that meets our clients' goals. We will also prepare detailed issue briefs, testimony, fact sheets and newsletter articles to get your message across to policymakers as well as to your employees or members.
Keep up-to-date regarding pending laws and regulations affecting your members
In today's competitive environment, you need to stay on top of what is happening in state government. Connecticut Lobbying Group, LLC will use an e-mail/fax network to give you up-to-the minute reports on pending laws and regulations affecting your industry. Or, visit our new Political Action Center to track bills affecting your industry. We will also prepare an in-depth legislative wrap-up of issues and be on tap to speak to your employees or members about new laws affecting your industry.
Build effective broad-based coalitions to support your public policy goals
There's safety in numbers – and success! Building a broad-based coalition is an effective lobbying tool to secure passage or defeat of proposed legislation or regulations. We have spearheaded dozens of coalitions to successfully lobby a wide range of issues, such as property rights and easements, tort reform, unemployment compensation and employment discrimination.
Testify before legislative committees and regulatory commissions
Drafting testimony comes naturally to us, so count on us to take care of your written testimony while you take care of your business. With your input, we'll prepare testimony and make sure it gets into the right hands – on time and on point. Testifying before a legislative committee or state agency on pending legislation or regulations can be a daunting experience for your members. We will work with you to ensure that the process goes as smoothly as possible. We will also minimize the time your members have to wait before testifying by signing them up early and taking advantage of the time that they are at the Legislative Office Building by introducing them to key legislators.
Address enforcement, tax policy, procurement, permitting, licensing and other issues before Connecticut state agencies
If your business or organization is having trouble with a license application or facing a difficult enforcement proceeding, we have the knowledge and resources to help you resolve the issue. State regulations and policies can cost your members an inordinate amount of time, money and frustration. We can reduce these headaches by helping you and your members navigate the confusing maze of state agencies to get you the results you need.